Sark Folk Festival continues success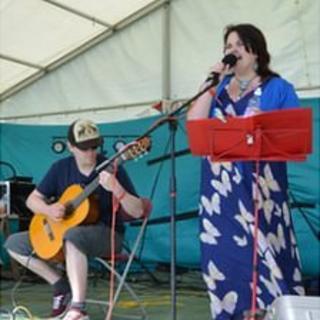 For the third year in a row the last weekend in June saw musicians and music lovers from all over the British Isles and France descend on the small island of Sark for three days of folk and roots music.
The brainchild of Simon Harvey the 2012 festival saw UK folk stalwarts such as Show of Hands rub shoulders with new and local bands like The Recks and The John Wesley Stone.
The festival opened on the afternoon of Friday with a set from well established Guernsey musician Mick Le Huray.
Mick said: "I was pleased to [open the festival] this year… I really enjoyed it but it was a little bit nerve-wracking, there's a responsibility to kick it off in the right way."
Electronic folk duo Tonight The Skies played a stripped down set for their performance to fit in with the weekend's more acoustic feeling.
"We stripped the songs down a bit so it was a bit different, but I think everyone enjoyed it and it gave people a chance to hear the songs in a different way," said Vocalist and fiddle player Hollie.
Guitarist James said of the festival: "There's definitely been more mud [this year] but it's great, every year the festival gets better and it's just a lovely festival to play at."
A Day Before Thursday were making their Sark debut at the festival. Singer Martine said: "I came here to spectate a couple of years ago… the atmosphere's brilliant."
Martine put down the continued appeal for folk music down to the fact it tells stories that are still relevant today, even if the songs were written, in some cases, hundreds of years ago.
Simeon, who plays guitar in the duo, added that a lot of it is about new acts "putting their own spin" on an old tune.
"Say a song was written in the 1700s it can be evolved up to present day and it keeps changing, that's one of the nice things about folk music," he said.