Guernsey Airport filter design 'improved'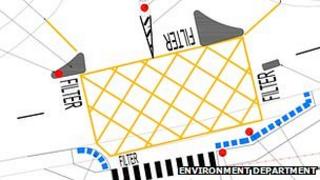 Changes are made to the layout of the junction at the entrance to Guernsey Airport to coincide with the return of a filter in turn.
The Environment Department agreed to reinstate the filter after complaints about delays caused by the temporary traffic lights that replaced it.
The filter will operate four ways to include the airport contractor's compound.
Work on the junction is due to take place on Sunday morning.
Access to and from the airport will be from the eastern end only while the work takes place, which weather permitting will be between 04:00-12:00 BST.
The changes include additional signage and a pedestrian crossing in front of the entrance to the compound, built by Lagan Construction for use during the £80m project to upgrade the airfield.
The department said it would be monitor the effectiveness of the junction for a month before reviewing it again.