Guernsey's new Les Beaucamps High School built to last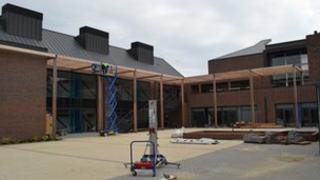 Guernsey's new Les Beaucamps High School has been built to last at least half a century, according to the director of schools' projects.
Derek Neale said: "Most of the buildings that were put up after World War II... were really only intended to have a 25-year life span."
The old school was opened in 1959 and lasted 53 years but Mr Neale admitted it was "on life support" at the end.
The rebuilt, four-storey school cost £37m and will open on 10 September.
'First class'
Mr Neale, a former head teacher at the school, said durability had "permeated every aspect of the design".
"We expect this building still to be open and functioning at least 50 years on and probably much further than that," he said.
Peter Le Cheminant, the school's current head teacher, said: "Students are going to be very excited indeed when they come into the school in September and find the facilities that they have on offer here.
"They are first class.
The natural slope of the site, in the Castel parish, means all four storeys open on to land.
The new school is built around a central courtyard, which is large enough to accommodate all staff and students at once.
Ashley Dupree, the project operations director, said this would enable the school to hold outdoor all-school assemblies when the weather was suitable.
Les Beaucamps is one of three States-run, secondary modern schools in Guernsey, where the 11-plus system operates.
It has traditionally served the parishes of Castel, St Andrew and St Martin but from September, it will also admit students from the Forest parish.