Guernsey agricultural show split after wet weather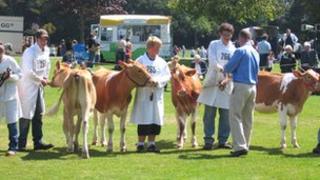 Guernsey's Royal Agricultural and Horticultural Society show will be split over two days this year.
Organisers said they had given farmers extra time to ready their animals after wet weather put them behind schedule.
The horse and goat show will take place on 26 July at the new venue of Le Preel, while cattle judging will now be on 30 August at Saumarez Park.
Jim Jamouneau, the show's manager, said if conditions did not improve before August, the show may not go ahead.
Royal visit
Saumarez Park was waterlogged after heavy rain hit Guernsey.
The annual Viaer Marchi event, which is usually held at the park, was cancelled earlier this week due to poor ground conditions.
Mr Jamouneau said the waterlogging of Saumarez Park may impact the cattle event on 30 August, but added it could also be stopped by a lack of interest from local farmers.
The Prince of Wales and Duchess of Cornwall are due to visit the park next week as part of their visit to Guernsey.