Guernsey royal visit full itinerary released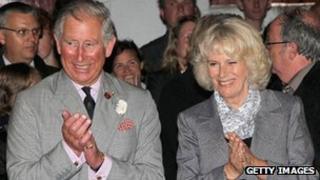 A full itinerary of the forthcoming royal visit to the Bailiwick of Guernsey has been released.
Prince Charles, the Prince of Wales, and Camilla, the Duchess of Cornwall, will visit Guernsey and its islands on 19-20 July.
While in Guernsey they will meet the patients and staff of a local hospice, as well as meeting politicians.
A plaque and a commemorative tree will be unveiled in Sark and Alderney respectively.
The royal couple will also pay a visit to Herm, the smallest inhabited Channel Island open to the public.
Their two-day visit to the Bailiwick forms part of the celebrations to mark the Queen's 60 years on the throne.
In June, the Bailiwick marked the Queen's Diamond Jubilee with a series of events around the islands.
The details of the prince and duchess's visit are as follows:
Guernsey
After arriving at Guernsey Airport, the couple will make their way to Saumarez Park to attend a youth event involving 400 local children.
They will also tour the Victorian walled kitchen at the park, and open the garden's new Orchard House glasshouse.
From here they will visit Les Bourgs Hospice in St Andrew and meet patients and staff before unveiling a plaque.
Their final engagement in Guernsey will be to attend an affirmation of allegiance ceremony at Castle Cornet.
This ceremony will see politicians and dignitaries renew their allegiance to the Queen.
Herm
Prince Charles and Camilla will travel to Herm on 19 July by helicopter.
As well as meeting John and Julia Singer, the tenants of the island, they will attend a reception where they will meet about 40 residents.
Sark
Sark will be the first stop for the royal couple on their second day in the Bailiwick.
They will travel by helicopter to the island on 20 July, and will be greeted by about 200 people at the Island Hall and Sark school.
A plaque commemorating the Queen's Diamond Jubilee will be unveiled before the couple take a trip to the Seigneurie Gardens by horse and carriage.
Alderney
Alderney will be the final stop on their tour of the Bailiwick.
After arriving by helicopter, the Prince of Wales and Duchess of Cornwall will meet the president of Alderney and travel to the Island Hall by vintage car.
At the hall, they will view a collection of Diamond Jubilee paintings by local children, before meeting representatives of Alderney Renewable Energy.
Finally, they will plant a royal oak tree.