Guernsey suffers another power failure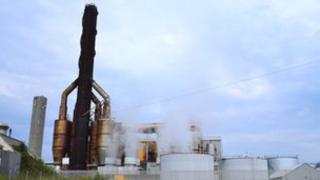 A power failure has affected parts of Guernsey as the island tries to cope without a regular cable link to France.
Jon Sexton, of Guernsey Electricity, said a fault on a generator at the Vale power station saw about one-tenth of the island's power load lost.
The island's cable link to France failed on 29 April, leaving the company to generate its own power.
Mr Sexton said until the link was restored, there was a higher risk of the island suffering more power cuts.
He said: "When we don't have that supply [from France], situations like this do cause us to, from time to time, lose parts of supplies to the island.
"With the reliability of the cable link over the last 10 years, people haven't seen those sort of small interruptions."
Guernsey Electricity apologised to customers affected by the latest power cut, which saw houses in St Sampson and Vale lose power for up to 15 minutes shortly before 08:00 BST.
A deal to to repair the island's link to France was agreed on 29 June, with work expected to be complete by the end of August 2012.
Mr Sexton said he hoped any power shortages would cease once the link to France was restored.