Guernsey harbour parking disruption begins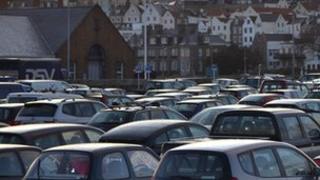 Disruption to parking in St Peter Port has begun, with hundreds of spaces relocated to allow for work to the town harbour to take place.
A temporary freight compound is being built at the eastern end of the North Beach car-park.
Almost 200 long-term parking spaces will be unavailable from Monday, although alternative places have been made available on the pier's East Arm.
A £13.75m refurbishment of the harbour freight facilities will take place.
Some additional parking spaces have been created on the Castle Emplacement, also in St Peter Port.
The North Beach's East Arm will be available to motorists between 0700 BST and 1900 BST every day, but will be unavailable overnight.
A new access road to the car park will also be put in place during the work.
The States of Guernsey's Public Services Department said it expected the parking measures to be in place until summer 2014.