Guernsey cyclist wins race after carrying Olympic torch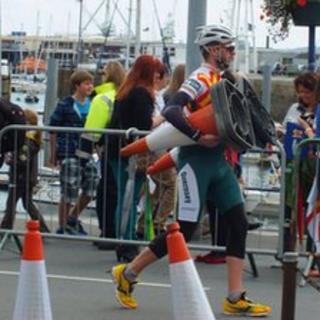 Guernsey cyclist Rob Smart has enjoyed "one of the best days of my life," after carrying the Olympic flame and then winning an elite, island race.
Mr Smart carried the flame from the Model Yacht Pond, on St Peter Port's Castle Emplacement, to Castle Cornet.
A short time later, he took victory in a criterium race around the seafront, held as part of a Guernsey Sports Commission "sports day".
"I'm going to have to go a long way to top that one," he said.
Mr Smart was nominated as a torchbearer after representing Guernsey in cycling events at the Island Games, at national level and at the Commonwealth Games in Delhi in 2010.
For more than 10 years, he has also coached children aged 5-12, helping to develop the Guernsey Velo Club's membership.
"Almost the whole club seemed to be down at the handover point [of the relay]," he said.
"It was a fantastic feeling to have all of those guys supporting me."
Mr Smart passed the flame to Jamie Bichard, himself a cyclist, who has represented Great Britain at the Special Olympics.