Guernsey receives 201 Squadron stained glass window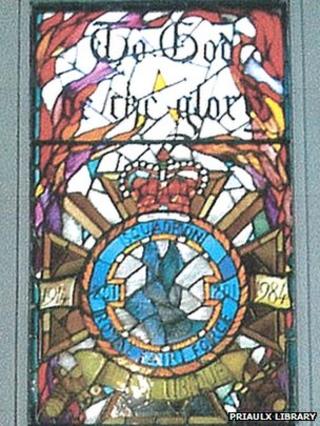 A stained glass window from a Scottish air base has been flown to Guernsey.
The window from RAF Kinloss bears the badge of 201 Squadron, which had a historic connection with Guernsey before it was disbanded in 2010.
The island's Priaulx Library will house the window, which was made in a Benedictine monastery in Scotland.
Claire Le Pelley, chairwoman of the Council of the Priaulx Library, said rescuing the item was important for reflecting the relationship with 201.
It was confirmed the squadron's former station at Kinloss would be taken over by the army later in July.
Guernsey received 201's standard, which was handed over to the island after the squadron disbanded.
Ms Le Pelley said "We at the library are absolutely thrilled to have it.
"It's something we heard about and actually asked to have... it's just a wonderful thing."