Guernsey's Teaspoonriverneck hold mini-festival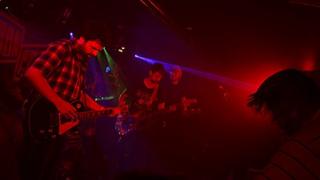 Teaspoonriverneck, Guernsey's own groove-rock band, launched their own, self-curated, mini-festival at the weekend.
Spoon Fest took over The Fermain Tavern on Saturday for seven hours of music spanning everything from funk to grunge.
Steve Lynch, vocalist and guitarist, said: "The idea came from us wanting to put on an event where we pick the bands that we like.
"Apart from the usual gig scenario we wanted to make it more like a festival so we incorporated some other eye candy like merch stalls, screening films and the chance to win some cool prizes."
The bands that played the show came from around the Channel Islands with Guernsey represented by Gay Army, The DeadBeats, The Id Shade and organisers Teaspoonriverneck.
They were joined by Jersey's Benny The Moth, FalenizzaHorsepower and DJ Livingstone.
Teaspoonriverneck's drummer Brett Stewart said: "Choosing the bands was easy, apart from the fact that we couldn't pick another dozen or so CI acts because of time restraints!
"We chose bands that were going to offer something different from each other but ultimately we knew that they would 'bring it'.
"Personally seeing the ID Shade and FalenizzaHorsepower on the same bill was immense."
Teaspoonriverneck themselves played, arguably, the set of the night mixing old and new material that really got to the crowd.
Steve said: "Our set went brilliantly and it was nice to dig out some older heavier material, as well as playing a brand new song Carousel."
Brett added: "From a band point of view it was pretty special and unexpected. I thought that our slot was an after thought because we were keen for everyone else, audience and bands, to be catered for."
At the end of the night, after the raffle had been drawn and the mix CDs swapped, two of the band's extra features, there was much talk that this might be Spoon Fest number one, with the implication that there would be more to follow.
Of the future of Spoon Fest, Brett said: "Yes! We are certainly looking to do another next year, we already have a few bands in mind and have several quirky ideas on the cards that you definitely won't see at any other gig."
"[We need some time to] think about possible acts we can ask next. Maybe even a UK band but who knows," added Steve.