Alderney Harbour crane snaps while loading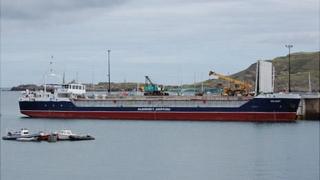 Part of an Alderney Harbour crane snapped while it was loading a ship with freight.
Witnesses near Braye Harbour reported a loud crash at about 09:00 BST.
The Valiant, which is owned by Alderney Shipping, was being loaded with supplies, when the jib holding the hook snapped.
The island's harbour office said no-one had been hurt and the situation was under control, with another crane having taken over the operation.
A spokesman for Alderney Shipping said a subsequent freight arrival to Guernsey would be delayed by about three hours as a result of the incident.
However, he anticipated Wednesday morning's freight deliveries to Alderney would be back on schedule.