Mont Cuet checks find Guernsey firms tipping illegally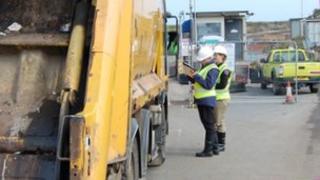 A spot check of commercial vehicles using Guernsey's waste dump has revealed 50% were unlicensed.
Val Cameron, the director of environmental health, set up what she described as a "road-block" at the entrance to Mont Cuet, earlier.
Between 08:00 and 10.45 BST, 22 vans and trucks were stopped, of which only 11 were properly licensed.
Ms Cameron said: "The regime is still fairly new... [and] it's a re-education process, really."
"Some sectors of the industry are telling us they didn't realise they needed a licence if they were carrying recyclables," she said.
Ms Cameron said she intended to carry out further checks "at different times of the day and on different days of the week" to get a clearer picture of the extent of the problem.
Since the States introduced a new system in 2010, 279 companies have been issued with a licence.
These cost £200 for three years but companies can use more than one vehicle.
Ms Cameron estimated the total number of vehicles licensed to be between 500 and 600.
The 11 drivers of unlicensed vehicles were given application forms and told to submit them within a week.
"We will obviously follow that up," Ms Cameron said.
The Public Services Department has estimated Mont Cuet will be full by 2022.
The States of Guernsey decided in February to investigate the export of waste and to increase recycling rates to 70% by 2025.