Condor Vitesse engine 'still not working'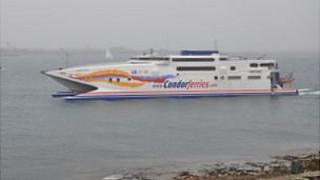 Work to fit a new engine to a Channel Islands ferry has yet to be completed causing ongoing delays to sailings, Condor Ferries has admitted.
Ian Milner, Guernsey Director, said: "Condor Vitesse is operating slightly slower than scheduled because of a delay in receiving a component."
He said engineers expected the part in the next ten days.
Passengers have reported delays of up to an hour on trips between the islands and the UK.
The ferry was out of the water for more than two weeks last month while one of the four engines was replaced.
Mr Milner said: "We are in daily contact with our suppliers and are committed to finishing this essential work as soon as possible.
"On behalf of Condor Ferries, I would like to apologise for any inconvenience these slight delays may have caused our passengers."