Festung Guernsey group unearths German granite bunker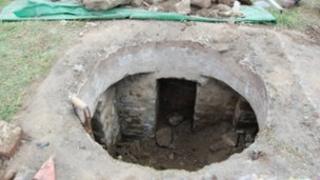 The Festung Guernsey group, which restores the island's German fortifications, has unearthed a bunker made entirely from granite.
The defensive fighting position was built on the east coast of St Sampson by occupying forces during WWII.
Group member Paul Bourgaize said: "A structure like this would normally be built from concrete, so... it's extremely interesting."
The group excavated the site on Monday with the help of Danish volunteers.
Mr Bourgaize, who was one of the visitors to go into the Tobruk pit, said: "I think this fortification is really important for our heritage."
"Not only the heritage of Guernsey but also for Europe."
'Really massive'
The Channel Islands formed part of a long defensive barrier of heavily fortified territories known as the Atlantic Wall, which stretched from Scandinavia to North Africa.
However, Mr Bourgaize said the visiting volunteers had been taken aback by the dimensions of Guernsey's German fortifications.
"We are familiar with these defences but here [they are] really massive, especially seen from a Danish perspective," he said.
The bunker, in common with similar constructions around the islands, was back-filled by the States of Guernsey in the years after the war.
It was felt at the time that they were potentially dangerous.
However, Mr Bourgaize said this had proved to be a great advantage to the restoration group.
"It has preserved things. Had there been range markings in here, they would have been preserved.
"Exposed to the sun, they quickly fade."
He said Festung Guernsey wanted to bring more volunteers to the island from around Europe, to help with further excavations.