Isaac Brock bust given to Guernsey by Canadian artist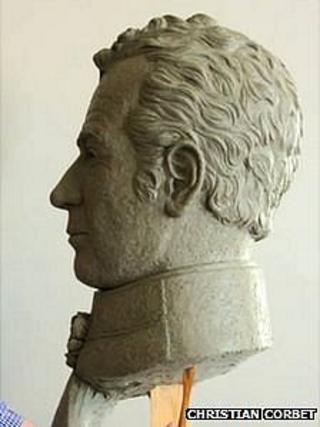 A newly created bust of Guernsey military hero Maj Gen Sir Isaac Brock is to be given to the island on the 200th anniversary of his death.
Canadian artist Christian Cardell Corbet used forensic techniques and Gen Brock's own clothes to make the portrait as lifelike as possible.
The bust will be unveiled on 13 October, the anniversary of his death.
He was killed at the Battle of Queenston Heights in Ontario, Canada, during the War of 1812.
The war was started by a United States invasion of Canada as the Americans, encouraged by the ongoing war between Britain and France, aimed to remove British influence from North America.
However, it was the earlier action involving the capture of Detroit, in Michigan, US, on 16 August 1812 that earned Gen Brock his knighthood.
Egyptian mummy
His force of 300 British regulars, 400 Canadian militiamen and 600 natives, led by Shawnee chieftain Tecumseh, captured almost 2,500 American regulars and militiamen.
He died less than two months later and never got to receive the knighthood in person.
For his role in the war, Gen Brock was dubbed the "Hero of Upper Canada".
David Sharron, head of the special collections and archives at the Brock University Library in Ontario, said: "It was immediately recognised as a major victory.
"It was right at the beginning of the war, the war was declared on June 18th, and this was the British, Canadians and First Nations first victory.
"They captured Fort Detroit without losing a single person and they gained the entire territory of Michigan, General William Hull surrendered the fort as well as the major position in Michigan."
Mr Corbet, who has previously reconstructed the facial features of an Egyptian mummy and a World War I soldier, said this project had a special attraction for him.
His own family moved from Guernsey to Canada in 1911 over fears the island may be invaded.
He said: "Guernsey is so dear to me, I was brought up hearing Guernsey French being spoken on a regular basis, photographs, paintings and documents all around me.
"It just makes it far more personal, it ties me a lot more closer to the subject, which is so vitally important when you are doing a portrait."
Miniature painting
Mr Corbet said he did not know a huge amount about the general before the project.
"We learned about Brock in school in passing with respect to obviously the historical significance of the War of 1812, but not a great deal," he said.
His work to create a forensic facial reconstruction involved using Brock's own hat and coatee, a close-fitting coat with short skirts or tails, a camera obscura and a pastel portrait of Gen Brock.
The portrait shows Gen Brock in the uniform of an officer in the British Army in Canada and was created using a camera obscura, a box containing a lens.
They were used by artists to project images on to their paper or canvas and later, with the addition of a light sensitive plate, became a basic camera.
Using a camera obscura from 1810, Mr Corbet realised the artist and Brock were on different levels so the silhouette on which the miniature painting was based was slightly off.
He said: "His face was a little bit more elongated, a little bit thinner than it would have been."
Using his knowledge of European caucasian male craniums of the time period he built a skull, added tissue markers and then musculature to come up with "a new face for Sir Isaac Brock".