Guernsey children's allowance payments to be reviewed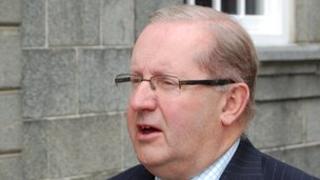 Some parents in Guernsey could lose their child benefit payments as the island's Social Security Department looks to reduce the benefit burden.
Social Security Minister Allister Langlois said the Family Allowance, which is currently set at £15.40 per week, per child, would be reviewed.
He said many in the States were asking why a children's allowance was needed "beyond a certain level of earnings".
However, he said savings could also be made through government efficiencies.
"You pay money in income tax and you pay money in contributions," he said.
"We've got the same group of people and yet we've got two computer systems. I believe there are savings to be made," he said.
The department was set the task of reducing its budget by £80,000 in 2012 as part of the Financial Transformation Programme.
The five-year programme, due to run until October 2014, is aimed at delivering a total saving across all 10 departments of £31.8m.
This was initiated in order to fill the gap in the island's finances created by the introduction of the Zero 10 tax strategy in 2008, which reduced corporation tax for most companies to 0%.