Guernsey Airport project 'back on track'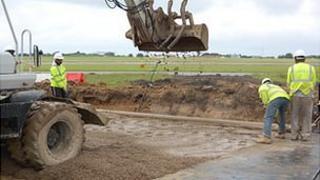 The £80m Guernsey Airport redevelopment project is getting back on track after wet weather caused delays, according to contractor Lagan Construction.
The poor weather at the start of the summer meant work on the plane parking areas fell a month behind.
Edwin Ryan, deputy project manager, said the recent run of fine weather had helped them make up some lost time.
He said the overnight work on the runway was continuing to run on schedule.
As part of the project, which includes moving the runway 120m to the west, the extension of safety areas and the replacement of drainage, the airport is due to close on 27-28 November and 4-5 December.