St Peter Port Harbour berth demolition begins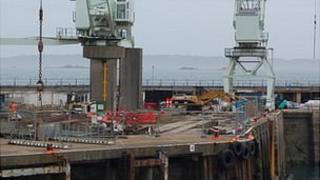 The demolition of one of St Peter Port Harbour's cargo berths has begun as part of a £13.8m refurbishment project.
The two-year project involves the replacement of four of Guernsey's harbour cranes with two mobile cranes.
The berth being demolished is due to be rebuilt and repairs to two other berths completed before the first new crane is expected to arrive early next year.
Harbour master, Capt Peter Gill, said the "very technically complicated" project was on schedule.
He said: "Maintaining essential harbour activities while large sections of the existing facilities are effectively out of commission presents a number of challenges."
The repairs to the other berths are due to corrosion to the undersides, supporting beams and columns and the project includes the installation of an anti-corrosion system.
The refurbished structures are due to have a design life of at least 50 years and the mobile cranes a design life of at least 25 years.
The current cranes handle more than 50,000 tonnes of freight annually and are all at least 40 years old, with two of them dating back to 1965.