Sark postbox to stay gold until Rio Olympics in 2016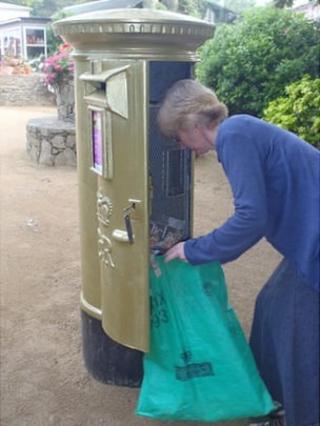 Sark's postbox, which celebrates Carl Hester's part in the GB team dressage medal, will stay golden until the next Olympics.
The Royal Mail has painted postboxes in the home towns of gold medal Olympians across the UK.
Guernsey Post, which offers postal services to the Bailiwick of Guernsey, did the same to the only postbox in the island of Hester's birth.
Cassandra Morris, from Guernsey Post, said it would stay gold until Rio 2016.
She said: "It's the same paint that the Royal Mail use.
"It's thin so you can do lots of layers and have it that beautiful colour that it's gone and it was also quick dry so we could paint it really quickly."
It was painted the day after the team of Hester, Charlotte Dujardin and Laura Bechtolsheimer took gold at Greenwich Park.
A spokesman for the Royal Mail said the boxes across the UK would stay gold for an "indefinite" amount of time.
While the Sark postbox will be staying gold, Hester said it was too early to seriously think about competing in Rio 2016.
He said: "I certainly wouldn't say no, I really just need a bit of recharge time.
"You have to have the right equine partner to go with it, so we'll see what's at home, we've got more horses coming along and probably over the next couple of years if they have Olympic potential or not."
Hester made the comments while on a visit to his home island with protege Charlotte Dujardin, who also won the individual dressage gold.
Among the events being held to celebrate the visit was a vin d'honneur on Saturday, which Hester said "actually made him a little bit emotional".
He said: "I didn't quite expect the feeling that came with it, everyone was just so happy and obviously it means so much to them and I hope I can do my bit for the Channel Islands while living in England as I just think it's the coolest place to come to."
Dujardin, who had never visited the island before, said: "We've had such a great reception from everybody it's been fantastic."