Guernsey Electricity prepares for generator delivery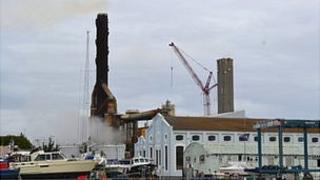 Preparations are under way for the delivery of a £14m generator for the island's power station, according to Guernsey Electricity.
Last week 380 tonnes of reinforced concrete were laid as the foundation for the 300-tonne oil-fired generator.
A crane, about 80m tall, has also been built ahead of the installation.
Operations Director Bob Beebe said the generator had a 35-year lifespan and would produce less carbon dioxide than the current machines.
Supplied by a Finnish company, it has a generating capacity of 17 megawatts.
The ship carrying the generator is due to arrive on 28 August, with St Sampson's Harbour closing to shipping during the unloading, which is expected to take place on 29 August depending on tides and weather conditions.
Modern plant
Besides on-island generation, an undersea cable link was installed between Guernsey and Jersey in 2000, which via another undersea cable between Jersey and France allows the islands to import electricity from the French grid.
However, this cable has been out of action since the end of April so all energy has been produced at the island's power station in St Sampson.
Mr Beebe said it showed the importance of having the capacity to generate power locally.
He said the link was important in helping the company to maintain low prices, but it could not import enough to deal with peak demands, especially in the winter months.
Mr Beebe said the decision to buy a modern plant had been taken as some of their current generators were approaching the end of their service life.
The company aims to have the new generator up and running in March 2013.