Guernsey paddleboarders travel around island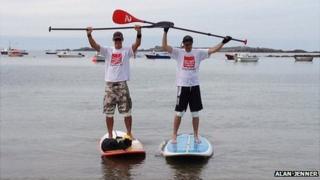 A pair of paddleboarders have become the first to ever complete a trip around Guernsey.
Jim Elliott and Alan Jenner paddled the 27 miles (43km) in nine hours and 24 minutes having set off from Portelet Bay at 06:00 BST on Thursday.
Mr Jenner, who only started the hobby in February, said they hoped to raise £500 for the Guernsey Cheshire Home.
He said their time may be broken, but they would always be the first to have done it.
Mr Jenner said two Jersey paddleboarders had travelled round their island in June and were planning to do Guernsey as well.
He said he could not let someone from Jersey be first, but expected the pair to beat their time as they used racing boards.
Describing paddleboards, he said: "They're the same as a standard surf board but with a deck, which basically means it has got a foothold... you're standing there with an oversized paddle and that's it."
The pair said the stretch between L'Ancresse and Grandes Rocques was particularly hard as the waves were "pretty wild".