Guernsey band CourageHaveCourage call it a day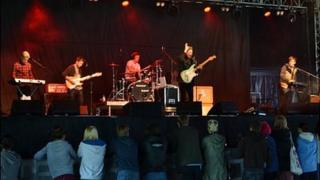 Guernsey band CourageHaveCourage have decided to "call it a day" after two years together.
The band hit a peak in 2011 playing the BBC Introducing Stage at Reading and Leeds Festivals.
They announced on their facebook page: "After 2 fun years we have decided to call it a day.
"We're all still close friends and will be continuing with our own things so keep an eye out! Thank you for all your amazing support."
Luke Vidamour, the band's frontman, told BBC Introducing Guernsey: "We've had a great two years as a band and have been lucky enough to play some amazing shows.
"Playing Reading and Leeds festivals was amazing and we are so grateful to have the support and opportunity to do that."
'Still great friends'
He went on to thank the band's fans: "Thanks to anyone who has supported us and we will definitely all be continuing to make music individually in one way of another."
The band formed in the tail end of 2009 when three members of the Mid-Carson Coalition (a Guernsey metal/emo-core band) reunited in London alongside two members of another Guernsey band, The Escape Fall.
Over the next two years their music progressed from a toned down version of their previous bands' sounds, through some excellent pop-rock, to their recent more electronic-tinged material, specifically on their single Lioness.
Their last show in Guernsey was on the main stage of the Guernsey Festival earlier this summer.
Luke said: "We are all still great friends and have had a lot of fun, but unfortunately all good things come to an end."
You can still see highlights from CourageHaveCourage's performance on the BBC Introducing Stage at the Reading Festival in 2011 here.