Guernsey Electricity generator delivery delayed by weather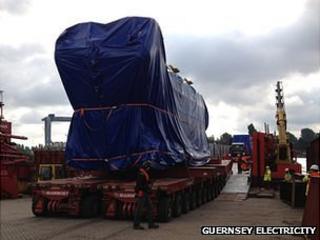 The delivery of a generator for Guernsey's power station, requiring the closure of St Sampson's Harbour, has been delayed by bad weather.
The cargo vessel Terra Marique was due to arrive in the island on Tuesday, but diverted to Southampton for shelter.
Tom Woodford, projects manager, said the delivery needed calm seas and the right tidal conditions.
He said they were working with the harbour office to decide when the delivery could next be attempted.
The vessel has travelled with the generator from Holland.
Mr Woodford said the journey across the English Channel required calm conditions because of the nature of the cargo.
He said: "This is a very heavy, complex and expensive piece of kit, and our logistics partners Mammoet have to be absolutely certain they can cross without risking any kind of damage to the engine in order to make the journey."
The 360-tonne unit, which cost £14m, is more than 18m (60ft) long, 5m (16ft) wide and almost 6m (20ft) high and is scheduled to begin generating power in March.