Guernsey trust reveals sunflower maze in secret garden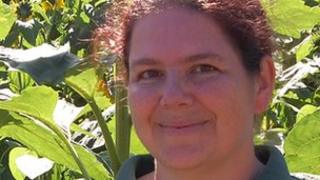 A sunflower maze has been revealed as the secret at the centre of a Victorian garden at Guernsey's Saumarez Park.
The Guernsey Botanical Trust said the maze would be open to the public on "dry Saturdays and Sundays" throughout September between 10:00 and 16:00 BST.
Margaret Boucher, who was responsible for the project, said: "It's a first for Guernsey. The sunflowers are over 7ft (2.1m) high and quite a sight."
She said volunteers had had to cope with gales and birds eating the seeds.
The trust appealed for bunting after Liberation Day, in May, to keep the birds away.
The secret garden is adjacent to the Victorian Walled kitchen garden where it built a "lemon house" in 2010.
Earlier this year, Prince Charles officially opened an "orchard house" there.
The trust is also planning a "vine house", which would bring the total span of glass at the site to 170ft (52m).