Les Beaucamps school opens with fewer sport facilities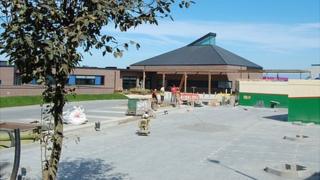 Sport facilities at the new Les Beaucamps High School in Guernsey will not be ready until the end of 2013.
Head teacher Peter Le Cheminant admitted pupils would have access to fewer sport facilities while they wait.
He said the new gymnasium, a four lane swimming pool and other sports areas would not be completed for another four school terms.
The £37m project saw the school built on the same site as the old one and it has kept the same name.
Pupils returned to lessons at the newly refurbished school earlier.
Mr Le Cheminant said: "At the moment we are quite compromised for sporting facilities, we are relying on what we had before and we have actually lost a bit of our sporting areas because of the new build.
"For four terms we are going to have to live with that, but at the end of it we will have fantastic new sports hall which will linked by two walkways to the school and then really the whole concept comes together."