'Dangerous' benches removed from Guernsey harbour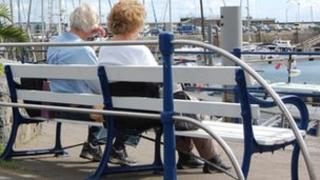 Thirteen benches have been removed from Guernsey's St Peter Port Harbour because of fears they may be dangerous.
The wood had rotted on the blue and white seats and they have been taken to Saumarez Park to be repaired.
Harbour Master Captain Peter Gill said his office had no responsibility for the benches, but something needed to be done to keep the area safe.
The benches have been a familiar sight on the piers and along the sea front for many years.
Captain Gill said: "It was brought to our attention that there were a number of Victorian benches around the visitor's marina area which were in worse-for-wear condition.
"Rather than cause a problem, we have removed them from there."