Guernsey Royal Court 'tradition is important'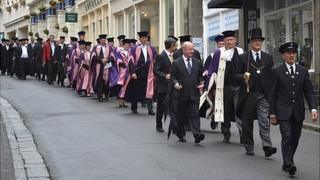 Important traditions such as the annual Guernsey Chief Pleas should be maintained, the island's deputy greffier has said.
David Robilliard was among those who attended the largely ceremonial meeting to mark the start of the court year.
He said: "There's documentary evidence to suggest that it existed as early as the 1270s."
Mr Robilliard said the judges, jurats, advocates, parish constables and some seigneurs also discussed several items.
He said this year they included reports from each of the constables on the state of the quarries in their parishes, a report on the salle publique (public halls) and a report on licences for explosives.
It also included the roll call, which all Royal Court advocates have to answer.
Mr Robilliard said the court was "part of the culture of the island".
He said this did not mean it would never change: "Sometimes things have to develop - since 2005 we no longer have the Easter and Christmas Chief Pleas but the Michaelmas one is still held and is deemed to be an important point in the court year."
After the court sitting members processed through St Peter Port to the Town Church for a special service.