Guernsey Strawberry Farm regeneration plan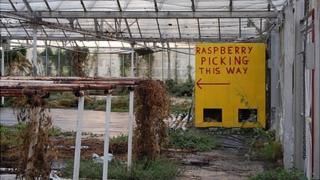 At least £600,000 could be spent in an attempt to regenerate the former Strawberry Farm site in Guernsey.
The site, which was a popular tourist attraction, has stood empty since it closed its doors to visitors in 2008.
Developer the Fuller Group has applied for planning permission to create a plant and fruit exhibition to showcase the island's horticultural heritage.
The proposals are being backed by respected horticulturists and the island's tourism authority.
Alex Fuller, who represents the site owners and developers, said: "We're hoping to open in 12-18 months. There is a lot to be done before then.
"It's certainly going to [cost] in excess of £600,000 and quite possibly a great deal more."
He said the three-and-a-half acre site would become known as St Saviours Farm.
Mr Fuller said: "The fruit and plant exhibition will be of an extremely high standard with fruit species from around the world. We intend to celebrate Guernsey's horticultural heritage within the exhibit and throughout the site."
If approved the planting scheme would be created by international flower show judge and multiple Chelsea Flower Show gold medal winner Jon Wheatley, and Anita Foy, a garden designer and former show manager at Chelsea.
They are being advised on the local aspects of horticulture by John Woodward, a former chief advisor to the States of Guernsey's Horticultural Advisory Service and a RHS Britain in Bloom judge.
Jason Moriarty, from Visit Guernsey, said: "Research indicates that the natural environment, gardening and food are key interests for the visiting tourist.
"An attraction that resonates all these aspects and one that celebrates our unique horticultural heritage can only be a good thing for Guernsey's visitor economy."