Alderney pilot died in crash caused by 'electrical failure'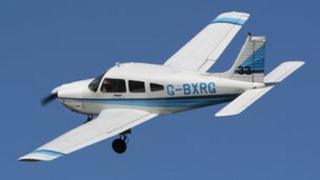 An electrical failure caused a private plane crash in which the pilot died, air accident investigators have found.
Ian and Anne-Marie Dickinson, both aged 79, were returning to Alderney in November when the issue occurred and Mr Dickinson decided to ditch the plane.
His wife, who was the only passenger, managed to escape from the aircraft and was picked up by a nearby boat.
The investigators said weather conditions and GPS problems had contributed to his decision to ditch.
They found the plane had drifted 25 miles off its flight path and suggested this may have been caused by the incorrect setting of the GPS.
Mrs Dickinson told the investigators that after the power was lost her husband said he was uncertain of their position. He told her he was going to ditch the plane and put the life-raft on her lap.
She said that after helping her out of the plane she believed her husband was attempting to leave, but was hindered for some unknown reason as the plane quickly filled with water and sank.
Investigators concluded from her account that a relatively simple problem, such as an entanglement with his headset or harness, may have cost him the vital seconds needed to exit the plane.