Guernsey States reject Sunday trading trial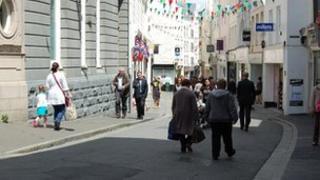 Guernsey States members have rejected a move to deregulate the island's Sunday trading laws.
Twenty-eight politicians voted against Deputy Mike Hadley's move to liberalise the laws for a trial period of 12 months starting in December.
Deputy Hadley has now announced his resignation from the Commerce and Employment department.
He said it was a very important department, and he felt he could no longer continue working in the role.
The rejection of the proposal in the States means large shops like Waitrose and B&Q and larger branches of the Co-op and Marks and Spencers will not be able to open on Sundays.
Currently in Guernsey grocery stores with floor spaces larger than 400sq-m (4,300sq-ft) cannot open on Sundays.
The Chief Minister, Peter Harwood, had urged members to reject the plan, arguing that subtle change was needed to the current laws, rather than a full suspension.