Sark postbox to stay golden forever for Carl Hester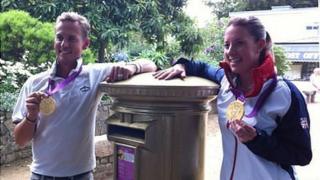 Sark's only postbox will remain gold permanently after being painted to celebrate Carl Hester's dressage medal.
Cassandra Morris, from Guernsey Post, said: "What Carl achieved was absolutely fantastic and great news for Sark. It's become a real centrepiece."
Hester, Charlotte Dujardin and Laura Bechtolsheimer won the dressage team event at London 2012.
It secured Hester's place in Channel Island history as only the second islander to win an Olympic medal.
'Lasting legacy'
Like most other Bailiwick of Guernsey postboxes, the Sark postbox had previously been blue.
Belinda Dunks, counter assistant at Sark Post Office, said: "We're all very pleased about it here, we're all very proud of what Carl achieved and it's great the postbox will remain gold.
"A lot of visitors are very taken with it, we get lots of them taking photos of the post box and are very pleased to send cards home saying 'we're going to post this in the gold postbox'.
"I often go out to collect the post and there's loads of people taking photos so it has caused quite a stir.
"We thought it would be [staying gold] for the next four years until the next Olympics, so it's really good news that it's going to be indefinitely now, it will be a lasting legacy for Carl."