Guernsey's Hotel Les Carterets demolition approved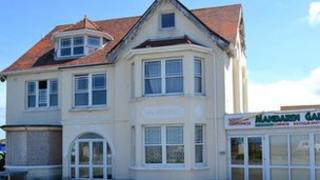 Plans to demolish a hotel on Guernsey's west coast has been approved by the island's Environment Department.
Board members approved plans to remove the derelict Hotel Les Carterets at Cobo and construct 12 three-storey apartments in its place.
Some concerns were raised by residents at an open planning meeting, at which the proposals were approved.
Andy Hall, a director of Carterets Developments, said he wanted to begin construction as soon as possible.
Three members of the five-person environment board voted on the scheme, after Deputies Roger Domaille and Barry Paint excused themselves from the debate.
Environment minister Deputy Domaille said he had been involved with the site in the past, while Deputy Paint had been a member of the Castel Douzaine, which supported the plans.
Natural landscape
Deputies Tony Spruce and Yvonne Burford gave their approval to the scheme.
Deputy Barry Brehaut refused to support it as he felt the building would not compliment the natural landscape and environment of Cobo and the west coast of Guernsey.
Plans for the redevelopment of the hotel were submitted in May 2012.
As well as the 12 apartments, underground parking will also be constructed at the site.
Two local residents spoke out against the plans.
One expressed concerns about the size of apartments on offer, fearing they would be too big.
The second was concerned the development would block the light to neighbouring homes.