Traffic changes on commuter route in Guernsey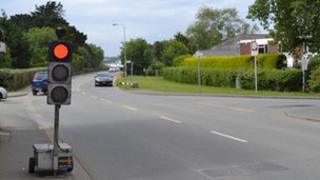 Drivers in Guernsey are being warned about changes to traffic lights in Bulwer Avenue.
Fixed temporary signals will be used where Bulwer Avenue meets the access road for the Longue Hougue reclamation site from about 10:00 GMT.
The Environment Department said traffic leaving Longue Hougue Lane or the access road opposite will now emerge on both sides at the same time.
Drivers who want to turn right will now have to give way to other traffic.
A spokesman for the department said: "Drivers are asked to take extra caution when driving through this junction when the signals are in the process of being commissioned."
Blister paving and road studs to show crossing points for pedestrians will be fitted on Sunday.
The lights will be removed when the airport project is completed in 2014.