Channel Islands Christmas Lottery top prize above £500k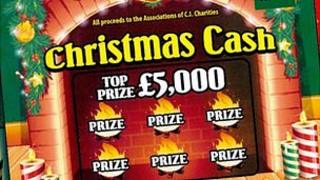 The top prize in the 2012 Channel Islands Christmas Lottery has risen above £500k.
The jackpot, which started at £300,000, increases based on the number of £1 tickets sold.
Organisers hope to beat the record first prize of £751,500, won in Jersey in 2011, before the draw on Thursday 20 December.
The lottery proceeds are given to the members of the association of charities in Guernsey and Jersey.
In 2011 grants ranging from £150 to £30,000 were distributed among 70 local charities.
The share of the proceeds given to each island is decided by the proportion of ticket sales.
The annual lottery has been run since 1975 and money has been donated to charity since 1986.
This year there is also a £50,000 second prize, a £25,000 third prize and 45 prizes of £500.