Guernsey residents urged 'love food, hate waste'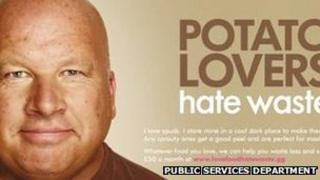 Islanders in Guernsey have been urged to reduce their food waste in the run up to Christmas.
The Public Services Department has launched the Love Food Hate Waste campaign aimed at reducing the 4,500 tonnes of food waste produced on the island annually.
Deputy Scott Ogier said he wanted to "target measures that can help to reduce the amount of waste we produce".
The campaign involves a new website, recipe cards and advertising.
Tina Norman-Ross, island recycling officer, said Guernsey residents may waste more money than their UK counterparts, as local food costs were higher.
"A lot of research was done in the UK, looking in detail at how much food goes in the bin," she said.
"It has also looked at best ways to try and prevent this, which is where the Love Food Hate Waste campaign originated from."
The department said that local research had shown the average household in Guernsey threw away more than 170kg of food annually.