Perelle coast road closes due to storm warning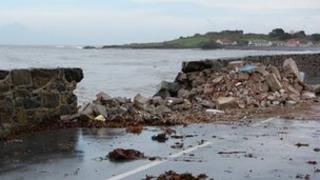 A coast road damaged by storms has been closed for the weekend due to warnings of further stormy weather.
A 10m (33ft) section of the road and sea wall at Perelle, on Guernsey's west coast, collapsed on 17 October during a 9.9m (32ft) tide and strong winds.
The Guernsey Met Office has issued warnings about the next six high tides.
The worst is expected to be at 07:38 GMT on Saturday when a 9.9m tide will combine with a south west wind of force five to six.
After the damage was caused, one lane of the sea road was reopened in the first week of November, but the other lane is not expected to reopen until the spring.