Guernsey Airport passengers told to check in early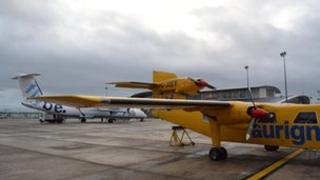 Passengers at Guernsey Airport are being urged to check in early while reconstruction work is under way.
A bus is being used to transfer passengers to their planes while work is carried out on the concrete apron area where people would normally board.
Guernsey Airport director Colin Le Ray said: "We ask everyone to pay attention to the minimum check-in time their airline advises."
Passengers need to allow time to board the bus or they could delay take off.
He said the bus was a "very quick transfer" but getting people on to the bus did take some time.
The reconstruction of the main aprons is being done in phases and aircraft will be moved to new areas at the eastern end of the airfield.
It is part of an £80m airfield refurbishment project at Guernsey Airport.