Guernsey Airport closed after open door on plane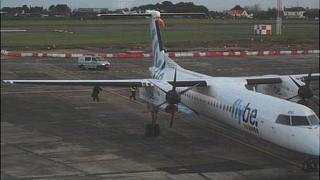 All commercial flights were suspended at Guernsey Airport for nearly three hours after a plane was left open overnight.
Colin Le Ray, airport director, said security checks had to be carried out as a precaution.
The police bomb disposal team was involved in the search of the Flybe aircraft.
The airport reopened at 09:40 GMT and flights started operating shortly afterwards.
Mr Le Ray said: "We discovered an aircraft with a door unsealed. Doors are normally locked and sealed.
'Security breach'
"From what we understand the aircraft was being worked on overnight."
An airline spokesman said: "The safety and security of its passengers and crew is Flybe's number one priority, however, Flybe regrets any inconvenience experienced by its passengers as a result of the delays."
He said it was "complying fully with authorities" on their investigation into the "suspected breach of security".
Guernsey Police confirmed its officers had been involved in the search, but said they would not comment as it was a matter for the airport authorities.
Mr Le Ray said engineers from Flybe had worked with police "to ensure the search was thorough and as comprehensive as appropriate".
He said flights could only resume when the incident was confirmed to be "an omission rather than a deliberate threat".
The delay affected all three airlines that operate to and from the island and led to a number of flights being cancelled and some passengers being moved to other services.