Guernsey States faces airport disruption legal action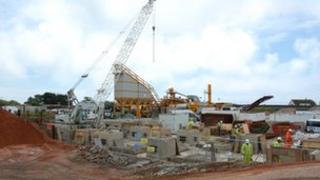 A legal case has been brought against the States of Guernsey and construction firm Lagan over work to improve the island's airfield.
Ian Birnie, who owns a property close to a construction compound, is suing for £203,000 in damages.
He said his family was forced to move because of noise and light disruption.
The Public Services Department said it had offered to pay Mr Birnie the costs associated with his relocation and rental, but could not comment further.
Court papers relating to the case said Mr Birnie was requesting damages relating to loss of land, rented accommodation and other expenses.
The papers said Mr Birnie was also claiming for the cost of a gym membership, the cleaning of his family's cars, and fish valued at £3,300.
All of the costs were said to have come as a result of noise, light, dust and odours emitted by equipment at a nearby construction compound.
Mr Birnie's property lies about 100ft from the Southern compound opposite the entrance to Guernsey Airport.
The facility has been used by Lagan Construction to house a concrete batching plant, heavy machinery and liquid bitumen tanks.
Mr Birnie has also requested his legal costs and any interest accrued to be covered and paid for.
Court papers stated Lagan and the States of Guernsey could have foreseen the disruption Mr Birnie is claiming his family has endured.
The case will also see Mr Birnie request payment for future losses, including more than £100,000 for rented accommodation.