CCTV images of missing Gillian Sarahs are released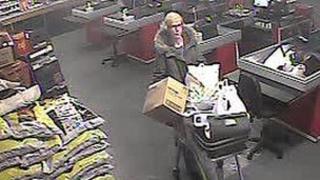 Guernsey Police have released CCTV images of Gillian Sarahs in their search for the missing 54-year-old mother.
The still images were taken from a CCTV camera at the Alliance supermarket in the Braye Road Industrial Estate.
They were recorded at 08:20 GMT on 1 February, approximately 10 hours before she was last seen by a family member at her home on Victoria Avenue.
The green coat with fur trim she was wearing has not yet been traced.
Police said it was possible she had worn this coat when she left home that evening.
Earlier, police were joined by Harbour Authorities staff as they extended their search to privately owned ponds in the Vale parish.
This followed searches on Monday of the islets off the north-east coast of the island, known as the Houmets, which can be reached on foot at low tide.
Since Friday, Guernsey Police staff have been joined by Civil Protection Volunteers, the Channel Islands Air Search and members of the public who offered their help after an appeal on social media.
Mrs Sarahs' family have thanked everyone involved in looking for her.
Police believe the Waitrose employee did not leave the island and have confirmed her travel documents have been located.
Mrs Sarahs is 5ft 4in tall, slim, with short blonde hair and a fair complexion.