Fishing boat seized in Guernsey waters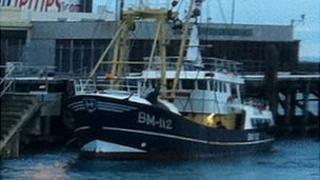 A Brixham registered beam trawler, suspected of fishing illegally, has been impounded by Guernsey's sea fisheries vessel, the Leopardess.
A spokeswoman for the Commerce and Employment Department confirmed that a vessel had been intercepted within a newly created 12-mile fishing limit.
The 42m (138ft) Becky Lou was escorted into St Peter Port harbour arriving just before 17:00 GMT.
The spokeswoman said a court appearance was likely to follow on Tuesday.
It is the first time a vessel has been impounded since the 12-mile limit, within which vessels need to be licensed in order to fish, was introduced at the start of February.