Brixham skipper fined for fishing in Guernsey waters without licence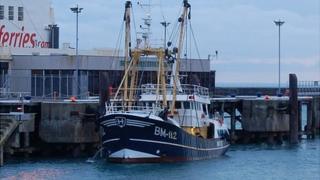 The skipper of a Devon-based trawler has been fined £6,000 for fishing without a licence inside Guernsey's 12-mile limit.
The Becky Lou was impounded by the Sea Fisheries vessel the Leopardess off the south coast of the island on Monday.
Brixham skipper Anthony Shine pleaded guilty when he appeared in the island's magistrate's court.
When sentenced he was given the choice of three months in prison or paying the fine.
Advocate David Domaille, the defence counsel, told the court the new licensing law, which came into effect on 1 February, was not well-known among UK fishermen.
He said six other Brixham-based fishing companies he approached were unaware of the need for a licence to fish in Guernsey waters.
Advocate Domaille said although the Commerce and Employment Department said it had advertised the licence introduction it was not reaching the people it needed to.
Judge Philip Robey said he took this into account when passing sentence, but warned harsher penalties would be given out for similar offences in future.