Guernsey Airport security altered after alert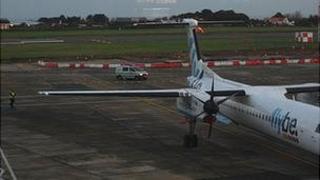 Security measures have been altered at Guernsey Airport after an incident involving an aircraft.
On 28 January, commercial flights were delayed by nearly three hours while a plane that had been left open overnight was searched by police and technicians.
An airport spokesman said changes would be made following the conclusion of an investigation. However, he refused to go into detail for security reasons.
The plane's operator Flybe said it welcomed the changes.
A statement from the airline said: "It is standard practice throughout UK airports for aircraft to be left unsealed overnight whilst in, what the protocols call, a critical part of an airfield, such as designated aircraft stands."
Flybe said it was currently considering reintroducing the use of security seals for unattended aircraft remaining overnight in Guernsey.
The airport spokesman said the investigations into the incident had been concluded and there would be no further comment on the incident from the airport authorities.
He said after complaints received on the day, the airport was also introducing moves to improve the "timeliness and content" of the information released to passengers.
The spokesman said: "Guernsey Airport would again re-iterate its apologies to passengers for the unfortunate delays which occurred.
"However the airport had to be satisfied that what was initially presented as an act of omission was genuinely that and nothing more serious.
"We simply cannot compromise passenger safety when an apparent security breach arises."