Guernsey landowner battles coastal erosion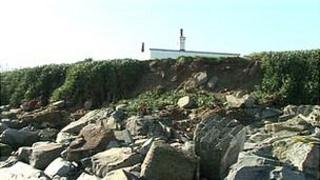 A Guernsey man has paid thousands of pounds to stop his property being damaged by coastal erosion.
Peter Fisher lives on the Richmond headland between Vazon and Perelle, on the island's west coast.
He said five years ago the sea was washing away 1in (2.5cm) of land every year.
Mr Fisher said installing granite boulders had stopped the erosion along part of his land and he was now adding boulders to the rest of his land.
He said: "The land was just getting washed away and it looked very ugly and the sea was always brown with the earth, but now it's stopped totally.
"We've had it for four or five years and we haven't had 1mm of erosion.
"I think it looks good and it's good for the wildlife. We've got huge quantities of birds here... they sit here because it's safe."
Mr Fisher said he had not been offered any financial assistance for the work by the States.
A report released last year found the island needed to spend £50m on its coastal defences in the next 20 years to avoid significant flooding in the future.
Having obtained planning permission for the work he said it would start as soon as the ground dried out enough to be able to take the mechanical digger needed for the work.