Guernsey parking charges 'apartheid' measure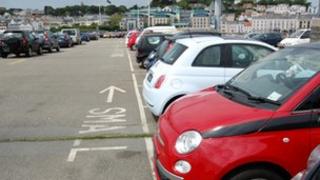 Introducing paid parking in St Peter Port would create a "motoring apartheid" according to a member of Guernsey's policy council.
Deputy Dave Jones said people working in retail are the lowest paid and would be hardest hit by paid parking.
Proposals for a two-storey paid car park at North Beach Harbour are included in the Ports Master Plan.
Chamber of Commerce President Rupert Dorey said getting something for nothing was "indefensible".
Currently there is no paid public parking in Guernsey.
Mr Dorey said he appreciated parking charges would concern retailers but the logic of something for nothing was indefensible.
The Chamber of Commerce has backed parking fees for commuters but expressed concerned about charging shoppers.
Deputy Jones said: "We have lots of out of town shopping now, supermarkets are selling goods other than food and people can park free in their car parks.
"That will create a motoring apartheid in many ways. A shop worker who does not earn very much in the retail business will be forced to pay for parking but if you work in a bank with its own underground parking you would not have to pay for anything.
"It will not be a level playing field and I don't think it is fair to try and price people out of their cars, especially out of town when the town is dying on its feet."