James Farrimond attempts world record busk for charity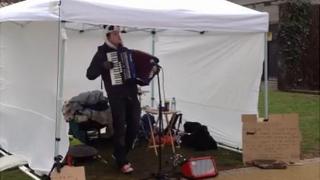 A Guernsey man has busked for more than 26 hours aiming to break the world record and raise money for charity Comic Relief.
James Farrimond swapped between playing an accordion and a hang drum while performing on London's South Bank.
Shortly after he stopped performing at about 17:20 GMT he told the BBC he was "tired but very, very happy".
Mr Farrimond said recordings had to be sent to Guinness World Records for it to be officially recognised.
He said: "I went through a couple of barriers where I was absolutely exhausted, but pretty much for the last hour or two I found I was quite perky.
"It's only now that I've noticed my arm is incredibly weak and I'm slowly getting more and more tired having been up for 37 hours."
He said he was supported by friends and family who had ensured he was hydrated and kept warm.
Mr Farrimond said he had raised between £600-700 before starting the challenge and there had been a lot of donations during the day.