Snow closes Guernsey and Alderney airports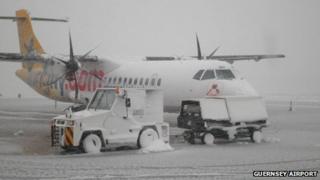 Guernsey and Alderney airports have closed due to heavy snowfall across the islands.
A spokesman said due to forecasts of further heavy snow both would close for the day.
The weather has also led to the closure of all schools across Guernsey, after four decided not to open at all.
An Education Department spokeswoman said all Guernsey schools will close on Tuesday. The schools in Alderney will also remain closed.
A number of shops and businesses have closed their doors with others planning to close early.
All the island's bus services have been suspended due to the weather.
Condor Ferries has cancelled its fast ferry sailings between the island, the UK and France.
All ferries between Guernsey and Sark have been cancelled due to "adverse weather conditions", Sark Shipping said.
Roof blown off
Guernsey Police have asked drivers to be careful, ensure their windscreens are clear, make sure they put their lights on and leave plenty of distance between any vehicles in front of them.
The strong wind caused a number of trees to fall down across the island, blocking some roads, including at Colborne Road, La Brigade and Rue du Friquet.
The Met Office said up to 4in (10cm) of snow was expected to fall in Guernsey on Monday.
A spokesman said along with severe gale force winds it could lead to blizzard conditions and could cause major disruption.
Guernsey Police had to close Les Banques earlier from the Red Lion towards Admiral Park because a flat roof blew off a building near the Red Lion pub.