Snow hits Guernsey schools, roads, buses and airport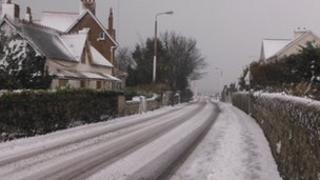 Bus services were cancelled, schools closed and drivers advised to stay off the roads after heavy snowfall in Guernsey.
Guernsey Airport had 10cm (4in) of snow on the runway and has been closed until at least 09:00 GMT on Wednesday.
Snowfall, which had been non-stop since Monday morning, stopped earlier on.
Police and States Works started work in the early hours to reopen roads around the island.
A limited bus service began to operate at midday along the east coast.
Operations cancelled
Traffic Sgt John Tostevin said high winds have also caused 50 trees to fall down across the island, some landing on cars.
He said winds were as bad as the great storm of 1987, but had combined with snow and drifts to cause further problems.
During the morning he advised drivers to stay off the road unless their journey was vital.
Non-urgent appointments at the Princess Elizabeth Hospital have been cancelled.
Colin Le Ray, airport director, said about 2,000 passengers had been delayed by the weather, and once the airport was open it could take several days to clear the backlog.