Guernsey snow 'worst for at least 16 years'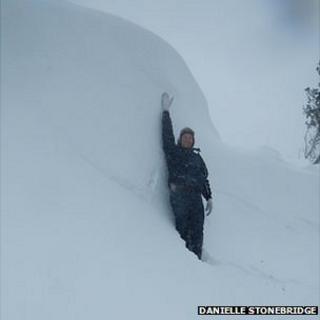 The blizzard conditions in the Bailiwick this week have been the worst for at least 16 years, the senior forecaster at Guernsey Met Office said.
Martin Crozier said: "You have to go back to January 1987 to have the sort of depth of snow and drifting."
He said comparing weather conditions was "quite a subjective thing".
Mr Crozier said: "This one has thrown up some enormous drifts which I don't think we had in 1987 so people will compare it to the 70s and even 1963."
He said: "We had a similar amount of snow on the ground on 2 February 2009 but it's not really comparable because that was just a quick dump of snow overnight - it didn't cause the same disruption.
"We're not going to get any substantial melting of this snow until Thursday-Friday and obviously we're going to see the drifts up against the hedges probably even into next week.
"We're not totally out of the woods as far as snow is concerned, believe it or not until the middle to the end of April."
He added that any further snow was unlikely to settle and cause similar levels of disruption.