Snow cleared from 'most of Guernsey'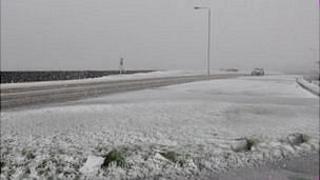 Some roads remain blocked by snow or ice after three days of disruption in Guernsey caused by heavy snowfall and high winds.
Guernsey Police said most of the island had been cleared, but warned motorists to take care in the higher parishes where the melting snow is creating ice.
The majority of bus and school bus services are running, but some are operating revised routes.
Guernsey Airport opened as normal at 06:30 GMT after de-icing overnight.
Schools across Guernsey have opened, the majority having closed on Monday morning.
Guernsey's Health Department apologised for having to cancel operations and clinics this week and said those affected would be contacted to rearrange their appointment.